Manoppello Scalo,Nocciano
A Cistercian abbey and the historic Bosco Nestore winery.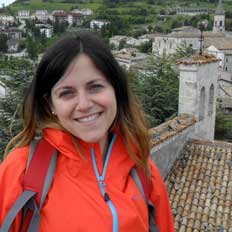 ---
Colors, scents and flavors of Abruzzo.
The tour will start in the scenic garden of Santa Maria Arabona, Cistercian abbey of the twelfth century, where two monks still live. We'll go back over the history of this ancient abbey and  admire the sculpted and painted masterpieces.
Afterwards, we will go to Nocciano at Bosco Nestore winery, there we'll visit the wine cellar and we'll have a guided wine tasting.
This winery has been established since 1897, when Giovanni Bosco started, on the "Lovers Hill" of Pescara, his wine business producing what later became the Montepulciano d'Abruzzo, famous worldwide for its intensive bouquet and a spicy taste .
Since 1968 Bosco  wine is famous thanks to the recognition of the DOC Montepulciano d'Abruzzo and to the historic label which still identifies the quality of Bosco Nestore wine .
We will taste the wines and visit the cellar - a underground architectural gem - designed in the 80's by Giovanni Bosco Jr., in the countryside of Nocciano .
Program:
3:00pm: departure from Pescara, Central Train Station (cab parking)
3:30pm: arrival to Santa Maria Arabona Abbey - guided tour
4:30pm: leaving the abbey to go to Bosco Nestore winery
5:00pm: arrival to Bosco Nestore winery - guided tour and wine tasting

6:15pm: back to Pescara

7:00pm: arrival to  Pescara, Central Train Station (cab parking)
Tour and Guide Availability

All year round. Please contact Maria to agree date and starting time.

What's Included

Guided tour at the abbey and at the winery. Wine tasting.

What's not Included

Everything is not explicitly reported in what's included

Good to know

I suggest you comfortable clothing and shoes.


Available Languages

Meeting Point

Pescara, Central Station (cab parking)

How to book

1. Choose the preferred typology of booking between "Shared Tour" and "Private Tour", where:

Shared Tour allows any single or more to join the tour at the lowest price, but sharing the tour with anyone else.
private Tour allows any single or group to reserve the tour/guide just for his own pleasure.

2. Fill in the chosen form with "date, time, number of people" and have a look at trip duration and max admittable number of people

3. Make a Request of Reservation, by clicking Book Now
Should you have any preliminary question you can directly Contact the Guide via e-mail
BOOK a shared tour
€30.00 per person
up to 30 people for 0005.00 Hour/s
OR ALTERNATIVELY
BOOK a private tour
€200.00 flat rate
up to 04 people for 0005.00 Hour/s
MORE TRIPS
NEARBY ACCOMMODATIONS