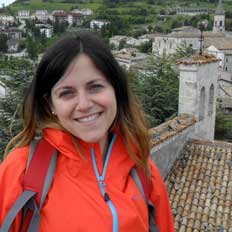 About me:
Scopri tutte le sfumature dell'Abruzzo: storia, arte, natura, tradizione, folklore..
Discover all the nuances of Abruzzo: history, art, nature, tradition, folklore .. This is why mine is a continous search made in my own territory, knowing people, sheperds, tour operators and traders of the places I visit and live.
I graduated in 2013 at the Universita 'degli Studi' G. d'Annunzio 'of Chieti in Cultural Heritage with a thesis on the history of medieval art in Abruzzo, I'm currently enrolled in the second year of the Bachelor's degree in Art History.
I attended training courses on the conservation, promotion and preservation of cultural heritage, on  childhood literature and on the hermitage phenomenon in Abruzzo.
I made studies about Aquila's artistic complexes  for the exhibition 'Before and after the earthquake. Preservation history of medieval art in Abruzzo ', whose results have been published in the exhibit catalogue.
I think that knowledge is useless and     an end in itself without the  dissemination.
RELATED TRIPS