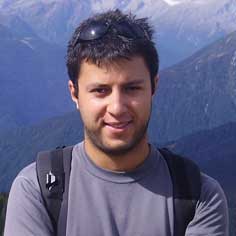 About me:
The mountain is the gym healthier and more dignified more healthy because it is far from the smoke, the noise, the vanity towns. More worthy because none of us has ever enriched if not memories and friendships.
     Guido Rey
 Veterinary Doctor freelance professional. Master of hiking companion and since 2005, member of the Board of Mountain Guides Abruzzo (LR 86/1998), partner and member of the Governing Council of the CAI section Fara San Martino and writing since 2008 all'AGAI (Italian Association of Mountain Guides).
Since 2006 he is member of the Co-operative Society 'THE DOOR OF THE SUN' Fara San Martino, environmental education center of regional interest pursuant to art. 10 LR 122/1999 and collaborates with the company 'Stop & Go' by Anna Louise Di Sciullo in environmental education activities and tourism promotion.
The main operational areas of his expertise are environmental education; guided tour in educational farms and wildlife areas; accompaniment in the mountains and protected areas; teaching techniques hiking progression; equipment and clothing bare minimum while hiking or trekking; design and implementation of an excursion; advice on the dangers of objective and subjective mountain; guidance and topography with the aid of a map and compass.
Organize tours, themed tours and cultural-scientific projections, particularly on the eastern and southern slopes of the Majella National Park and the area of the Highlands More Abruzzo ranging from nighttime excursions direct and indirect wildlife observation, knowledge and prophylaxis of any bites of snakes or ticks to naturalistic and historical aspects of the Majella National Park in Abruzzo in general.
RELATED TRIPS